TAP the APP
McDermott
Check It Out!
While you are taking a look around the "event categories" visit special offer from McDermott Cues your 2018 National Cue Sponsor.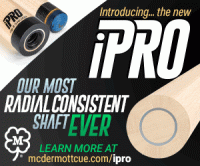 TAP Has 8 League Formats
You Have Choices
With TAP you always have a choice. We're proud to offer 8 different formats of league play to our members. Keeping you in the game and entertained with friends and family. We'll be providing a link with a short description of each format to help you make your choice. Thank you for choosing TAP for your night out. Meanwhile click on image to view them all.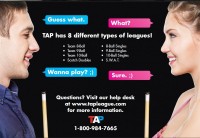 Become A Member
Join Us For The Fun
TAP Founder Loyd Schonter and TAP members ask you if you have the vision (Watch). Together we make it happen leading the industry to a vision that it has never experienced until TAP. Would you like to learn more about how to join, Read More.
Business Opportunities
Opportunity is knocking! Extra Income or a New Career
TAP offers friendly and affordable programs that offer different levels to be a League Operator in your backyard. Think you might have the right stuff? Call us 800-984-7665 Ext 2
Double The Fun! RIV and Nationals
2022 Here we come!
We are already looking forward to seeing you all in 2022 during the week of April 18-24th. The Super Billiards Expo will be the home of the always amazing and sold-out Rally In The Valley and we are adding days so that we can host the covid-delayed TAP Nationals as well!