2018 TAP Nationals
October 31 – November 5 2018
2018 Rally In The Prairie State Registration Click Here
8 and 9 Ball National Team Registrations are submitted by your Licensee.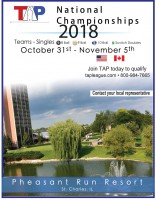 Become A Member
Join Us For The Fun
TAP Founder Loyd Schonter and TAP members ask you if you have the vision (Watch). Together we make it happen leading the industry to a vision that it has never experienced until TAP. Would you like to learn more about how to join, Read More.
Location Owner
Host Locations
Are you looking for a fresh start for your customers? If you don't have TAP in your location feel free to contact us and we can show you how easy it is to bring great entertainment to your league player. You could win one of our "Host Location Lights" available in a number of colors. TAP Lights are also available for purchase at our Online Store.