Concerned that the modern game of league play will be lost to history, TAP LLC., and POOL-NET have been funding a system that seeks to preserve virtual statistically entered information from league play. With this technology available, all leagues alike will have the ability to become equally sophisticated, and remain buoyant throughout.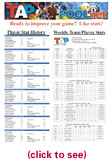 The demand for the best and most advanced technologies and highly reliable computing software, uniquely position POOL-NET to deliver comprehensive solutions that open up infinite possibilities for all Leagues around the globe.
POOL-NET, accepts the title of being "the leading technology to drive the billiard industry" to that direction and has already done so in many areas of sanctioned league play. POOL-NET is already responsible for providing tens of thousands of league players more useful statistical information that is uploaded live to the World Wide Web to view, unlike anything before in the history of sanctioned League play. This is not to say there are not others following our direction, as they should, however POOL-NET remains in the front of live statistical data providers.
When the billiard industries interview the goals of POOL-NET, you can see a spark and excitement in the interview. One of the most asked questions is "When is POOL-NET going to peak its completion stages", we answer, "when you tell us."
POOL-NET is also equipped with user friendly functions for the sanctioned and non-sanctioned league user.
Our Clients Range From:
Entrepreneur Wanting To Be In The Billiard League Business
Billiard Room Owner Wanting To Run There Own League
Independent Leagues
Taverns and Pubs
Private Clubs
TAP LLC
For a Quick Tour of this impressive and modern breakthrough feel free to email info@tapleague.com or call 843-249-5500. We would love the opportunity to share this with you.